Silversea's New Class Of Ships To Use Hybrid Power System
Silversea Cruises will launch the first ship powered by a trio of sources in summer 2023, allowing the ship to be emission-free while in port.
The new class of ships, known as "Project Evolution," will use a fuel cell system, battery technology and dual fuel engines using liquefied natural gas (LNG) as the main fuel.
Parent company Royal Caribbean Group said the hybrid technology will enable Project Evolution ships to achieve a 40% reduction in greenhouse gas emissions per double occupancy when compared to Silversea's previous class of ships. The ship class is projected to achieve an Energy Efficiency Design Index (EEDI) rating approximately 25% better than applicable International Maritime Organization requirements.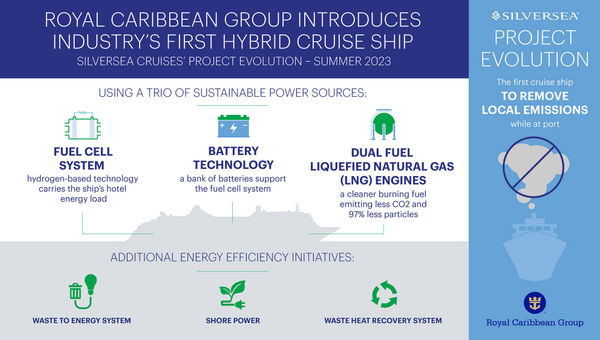 "Silversea's newest ship class is a significant leap forward in our commitment to sustainable ship design and our journey to reduce our environmental footprint," said Richard Fain, CEO of Royal Caribbean Group.
"Incorporating fuel cells into our ships now is one example of how Royal Caribbean Group is preparing to use new technologies as we move to a noncarbon-based future," Fain added.
The fuel cell system, a hydrogen-based technology that supplements the main power supply, will accommodate the entire hotel operations' power needs, Royal said. It will be the first large-scale fuel-cell installation at sea in the cruise industry, Royal said.
Project Evolution's full suite of initiatives will be developed in partnership with Germany's Meyer Werft shipyard.
Share this article: