Mykonos vs Santorini: 2 Of The Most Luxurious Islands In The World
Mykonos and Santorini are without any doubt the most popular islands in Greece. It's no coincidence that they are featured in most Top10 lists worldwide.
Every year, thousands of tourists visit both islands as they offer breathtaking views to the open sea, stunning scenery, crystal clear blue waters for swimming, traditional Mediterranean cuisine, picturesque white houses with blue domes, sandy beaches, luxurious accommodation, vibrant beach bars, and much more. Moreover, Mykonos and Santorini are also visited by some of the most famous global celebrities around the world, who often become an attraction on their own.
If you have one week to spend for vacation in Greece, we recommend that you visit both islands, as each island has so much to offer. But if you must choose to visit only one of them, we will try to highlight their main differences so you can decide for yourself.
Mykonos vs Santorini: Which Are The Main Differences?
While both islands have a lot of common characteristics like the traditional white and blue Cycladic architecture or the winding coastlines with small hidden bays, we will try to make a fair comparison and point out their basic differences.
On the one hand, Mykonos is famous for its endless partying, beautiful sandy beaches and celebrity spotting. Santorini on the other hand, is world-known for the volcanic landscapes, its romantic ambiance and the sunset views towards the caldera.
Let's have a look at comparing the two beautiful islands in more detail.
The Ways Of Visiting Both Islands
There are many daily ferry routes from Athens towards Mykonos and Santorini and also between them. Furthermore, there are large international airports in both islands, so you could easily fly to Mykonos from somewhere in Europe and fly back home from Santorini.
The Cost Of Visiting Either Mykonos Or Santorini
We have to say that both islands are equally expensive. This is the reason why Mykonos and Santorini mainly attract the upper class, especially during the high season of July & August.
Food And Dining Alternatives
It is well known that Greek cuisine is top-rated cuisine worldwide. You can easily imagine that one can enjoy delicious food in both Mykonos and Santorini.
Although expensive, there is a consistency in food's quality everywhere, which is very surprising for such over-crowded places. Moreover, both islands offer some of the best restaurants around the world, with famous chefs, and an exclusive dining experience.
Should you stay in a luxurious villa, you will also have the chance to make a special arrangement with private chefs and taste the high gastronomic flavors of the Mediterranean or international cuisine.
Nightlife & Parties
Well, this should be the easiest category in order to come to a conclusion. Mykonos is widely known for its nightlife and the endless parties that you can experience all day and all night long, from the beach parties to the night clubs. Chora of Mykonos is a place full of energy and thousands of people from around the world, including famous DJ's, have visited the island with one goal in mind: to party!
On the other hand, Santorini is a rather chilled place with a romantic and peaceful ambiance and definitely it is not a good place if you are looking to party.
The Beaches
If you are looking for a beach holiday, Mykonos is a better choice. There are many sandy beaches on the island that match all tastes. If you are not a fan of the crowded beaches, you can avoid places like Paradise Beach and instead, lead your way to non-commercialized beaches that have no sunbeds or facilities; just fantastic golden stretches of sand and crystal clear swimming.
On the contrary, Santorini does not have the white stretches of beaches that one usually imagines about Greece. As it's a volcanic island, expect to find beaches with black and red sand and rocks, such as the Red Beach.
Accommodation
Mykonos and Santorini can both offer you countless and high-end accommodation facilities which will make your stay unforgettable. Either you stay in a 5 star hotel or in a luxurious villa, you can experience great services in dining, and transportation.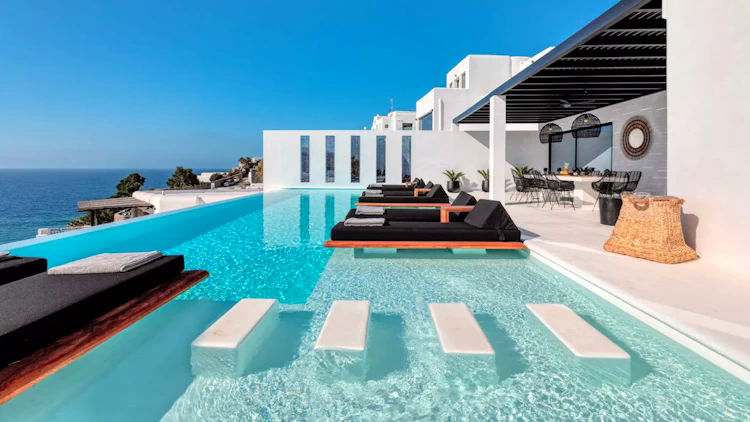 Sightseeing & Natural Beauty
Mykonos is mostly flat with a dry landscape while Santorini is completely different. Mykonos has long swathes of beach and plenty of seaside streets, while Santorini has an epic caldera view, unlike anywhere else in Greece. What's more, the island features volcanic beaches, vineyards and towns set high above the caldera which make up for an impressive panoramic view which you will not find in Mykonos.
As far as sightseeing is concerned, it depends on your style of travel. Mykonos has a lovely old town that has been kept in pristine condition, so you can wander through its winding alleys. Another majestic spot in Mykonos is Little Venice. Little Venice is a colorful collection of houses that lies on the waterfront. The nearby island of Delos is another popular attraction that draws visitors to Mykonos every year as it is probably the most important archaeological island of Greece and most of the remains are still visible today.
Apart from its famous sunset watching, Santorini also has a number of spots with high historical and cultural value. The two must-visit places are the ancient city of Akrotiri and the Museum of Prehistoric Thira. They both offer a fascinating insight into the island's history before the volcanic eruption destroyed the Minoan village. Moreover, If you fancy a spot of wine tasting, Santorini has you covered. This island is one of the few Greek islands that are able to produce great wines thanks to the fertility of the volcanic soil.
So Which One To Choose?
As you can see, there is not an easy or a good answer here. Both islands are very popular for a reason and it's worthwhile visiting both of them.
In case you only have a few days and want something more romantic and quiet, then Santorini could be the best option for you. If you want a party-oriented holiday and a vivid social scene, Mykonos is the right place for you.
Share this article: